When we were preparing our daughter for one of her first baths in the tub, she decided to surprise us.  With a poop.  Bath time is definitely not when you want to deal with a poop, and I wasn't prepared.  When I expressed my frustration to my husband, he sagely advised me, "you should always expect poop."
Those profound words hit me, and I realized that they apply to my professional life as well as my mom life.  As I think back over the past six months with our first baby, I realize she has taught me a lot that I can apply beyond motherhood.
So here are the lessons in project management I've learned in my first months as a new parent.
Prepare for the Worst
This tenet is nothing new to anyone who manages projects or works with clients; though it was been reinforced in my new role as mama.
Before I leave the house with the baby, I think about what has gone wrong in previous experiences and what potential roadblocks await me.  With experience, we've evolved to make sure Hedgie the Hedgehog is on every car trip; that we have blinking lights on the headrest across from baby in case boredom sets in; and that there are multiple outfit changes in different sizes ready for the whatever she serves up.
When managing projects, it's important to take the same approach.  Reviewing previous challenges in similar projects and discussing concerns before the project begins helps me feel prepared for the worst.  The proverbial poop will still happen, but I'll be ready for it.  And, if I'm not, it'll prepare me for next time.
Be Ready to Pivot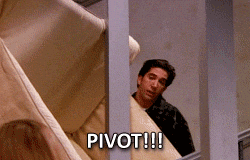 I'll admit that I wasn't great at rolling with the punches in my childfree life.
With my bambino came the need to adapt daily.  She regularly requires me to run through whatever I can think of to make her happy (e.g. an off-key lullaby, erratic dancing, making stuffed animals talk, or changing a dirty diaper in record time etc.).  My biggest takeaway here is NOT to take it personally.  Babies are going to cry, no matter how many goofy voices I can make.  So I just do my best to make her happy, and, eventually we get there.
The same principle is important in project management – you will have to pivot.  Sometimes crap will hit the fan, or clients will be unhappy, no matter how awesome your services are.  Don't take it personally, and instead focus on solutions.  And using a goofy voice might not hurt with them, either!
Celebrate
Cheering when my daughter rolls over or swallows a bite of cereal comes naturally – though small, those are accomplishments worth celebrating! Someday I'm sure I'll be cheering for her potty time.
I've recognized that I need to celebrate more when working on projects.  Not just for big efforts, like launching a new website or completing a big content project, but also for smaller victories like a great meeting or a client's personal achievements.
Bottom line here: everybody poops.  Whether babies or clients, you're going to run into some crap.  Being prepared, being ready to pivot and celebrating along the way will help those crappy moments stink a lot less.